My Blog
Posts for: June, 2013
By Drake Tollefson DDS
June 26, 2013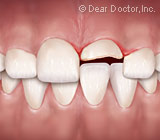 One went over the handlebars of his mountain bike. Another got an elbow going for a lay-up. For a third, it was that tricky maneuver on her new snowboard...
These are just a few of the ways that kids' teeth can be injured. (No doubt, parents can think of plenty more.) The good news is that modern dentistry offers more options than ever for treating the injury and restoring the appearance and function of the teeth.
Teeth that are fractured or dislodged are a serious condition that requires immediate, comprehensive treatment. The majority of dental injuries, however, are less severe: most often, they involve chipped teeth. If chips occur in the upper front teeth — as some 80% of dental injuries do — even small flaws can have a big affect on the appearance. And, especially in the teenage years, appearance can mean everything.
In many cases, small chips in the teeth can be repaired effectively using a procedure called "bonding." In this treatment, we use a tooth-colored material made by mixing a plastic matrix and a glass-like filler, which provides adequate strength and aesthetic qualities similar to the natural teeth. In fact, this composite material can be matched to an individual's tooth color so accurately that it's hard to notice any difference.
Composite resins can be successfully bonded to most healthy teeth — and they offer some advantages over other restoration methods, particularly for children and teenagers. The bonding procedure avoids making tiny "undercuts" in the natural substance of the tooth, while metal fillings need to "lock in" to the tooth's structure. This means that bondings generally require less tooth preparation, which usually makes bonding a quick and relatively easy method of restoration.
It's true that, over time, some bonded restorations may not stand up to the tremendous biting forces of the jaw as well as porcelain restorations — but in young people whose permanent teeth have large pulp (nerve) chambers, the removal of too much tooth structure could compromise the long-term health of the tooth. Later on, we can look at performing a different type of restoration.
If you have questions about cosmetic bonding or sports-related dental injuries, please contact us or schedule an appointment for a consultation. You can learn more in the Dear Doctor magazine articles "Repairing Chipped Teeth" and "An Introduction to Sports Injuries & Dentistry."
By Drake Tollefson DDS
June 13, 2013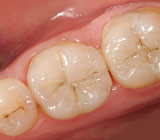 Tooth-colored fillings are just one of the many ways that cosmetic dentistry has evolved over the past few decades. There was once a time where having a cavity treated meant that you would be left with a noticeable metal filling. However, today we have an array of tools and materials available that help make tooth repair more like creating a fine piece of art.
Tooth-colored fillings are made of composite resin, which is a mixture of plastic and glass. Composite resin is not only more aesthetically pleasing, but also better for your teeth than metal fillings. Metal fillings can require your dentist to remove healthy parts of your tooth to create a ledge (undercut) that locks the filling in place. Tooth-colored fillings do not need this undercut to stay in place. In fact, they physically attach, or bond, to natural tooth structure. The procedure is also very simple. We'll apply the composite resin directly to your teeth, sculpt it and then finally harden it with a special light. When you see the results, you will be amazed at how natural and lifelike the restoration appears.
Another advantage of tooth-colored fillings is that they are strong and flexible. When you bite or chew, they will absorb and transfer the forces, just like your natural teeth. Metal fillings are strong, but they are also stiff, which can stress your teeth and make them more susceptible to cracking.
During your examination, we will evaluate if tooth-colored fillings are the best tooth repair option. If your cavity is too large for composite resin, we may recommend a porcelain filling. This procedure may require two appointments: the porcelain filling will be crafted in a dental laboratory, and we will then place this filling at your next visit.
If you would like more information about tooth-colored fillings, please contact us or schedule an appointment for a consultation. You can also learn more by reading the Dear Doctor magazine article "The Natural Beauty of Tooth-Colored Fillings."