My Blog
Posts for tag: Dental Emergency
By Drake Tollefson DDS
February 13, 2014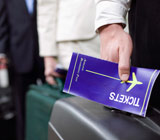 Traveling to faraway places is the stuff of daydreams for many people, and even more exciting when the dream comes true. But that excitement could be dampened should you ever be faced with the reality that your medical treatment options abroad can be quite different from what you enjoy at home in the United States.
Dental care is no exception. If you have a dental emergency abroad, you may be unpleasantly surprised at the lack of available care at the level of quality you're accustomed to at home. It's prudent, therefore, to take a few precautions before you go and do a little research on sources of dental care where you'll be traveling.
Before your trip you should schedule a dental visit, especially if you have some lingering issues that need attending; you should also be sure to plan this well enough in advance to allow time for any subsequent treatment and convalescence. It's especially important that you have damaged or cracked teeth treated, as well as complete any recommended root canals. You should also schedule a cleaning, and have any teeth with sensitivity issues checked for possible periodontal (gum) disease.
While you can significantly reduce your risk of a dental emergency before you travel, you can't eliminate it all together — a problem could still arise during your trip. It's advisable, then, that you bring along contact information for people or organizations that could assist you with obtaining medical or dental treatment. Your hotel concierge, the U.S. Consulate or Embassy, or even other Americans living or stationed in the country you're visiting can be helpful sources of information. You might also contact the International Association for Medical Assistance to Travelers (www.iamat.org) or, if in Europe, the American Dental Society of Europe (ADSE) (www.adse.co.uk) for recommendations on care.
A dental emergency during foreign travel could turn that dream vacation into a nightmare. You can lessen the chance of that by taking these few precautions before you go.
For a copy of A Traveler's Guide to Safe Dental Care, visit www.osap.org. If you would like more information on dental concerns when you are traveling, please contact us or schedule an appointment for a consultation. You can also learn more about this topic by reading the Dear Doctor magazine article "Traveling Abroad? Tips for Dealing with Dental Emergencies."
By Drake Tollefson DDS
June 26, 2013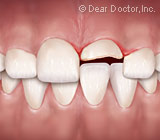 One went over the handlebars of his mountain bike. Another got an elbow going for a lay-up. For a third, it was that tricky maneuver on her new snowboard...
These are just a few of the ways that kids' teeth can be injured. (No doubt, parents can think of plenty more.) The good news is that modern dentistry offers more options than ever for treating the injury and restoring the appearance and function of the teeth.
Teeth that are fractured or dislodged are a serious condition that requires immediate, comprehensive treatment. The majority of dental injuries, however, are less severe: most often, they involve chipped teeth. If chips occur in the upper front teeth — as some 80% of dental injuries do — even small flaws can have a big affect on the appearance. And, especially in the teenage years, appearance can mean everything.
In many cases, small chips in the teeth can be repaired effectively using a procedure called "bonding." In this treatment, we use a tooth-colored material made by mixing a plastic matrix and a glass-like filler, which provides adequate strength and aesthetic qualities similar to the natural teeth. In fact, this composite material can be matched to an individual's tooth color so accurately that it's hard to notice any difference.
Composite resins can be successfully bonded to most healthy teeth — and they offer some advantages over other restoration methods, particularly for children and teenagers. The bonding procedure avoids making tiny "undercuts" in the natural substance of the tooth, while metal fillings need to "lock in" to the tooth's structure. This means that bondings generally require less tooth preparation, which usually makes bonding a quick and relatively easy method of restoration.
It's true that, over time, some bonded restorations may not stand up to the tremendous biting forces of the jaw as well as porcelain restorations — but in young people whose permanent teeth have large pulp (nerve) chambers, the removal of too much tooth structure could compromise the long-term health of the tooth. Later on, we can look at performing a different type of restoration.
If you have questions about cosmetic bonding or sports-related dental injuries, please contact us or schedule an appointment for a consultation. You can learn more in the Dear Doctor magazine articles "Repairing Chipped Teeth" and "An Introduction to Sports Injuries & Dentistry."
A toothache. A knocked out or broken tooth. A lost crown or filling. You can't always stop dental injuries from occurring, but you can help ease the pain and prevent additional dental damage until you can get to a dentist. At Distinctive Smiles, we realize accidents can happen, and when patients are prepared to handle dental emergencies, it can mean the difference between saving and losing a tooth.
Easy Ways to Avoid Dental Injuries
Avoid chewing ice or hard candy which can crack teeth
Avoid ripping objects with teeth, such as sealed packages and tape
Avoid the risk of injury to teeth, gums, lips and tongue by wearing a mouthguard when participating in sports and high-impact activities
Visit Distinctive Smiles for regular check ups and cleanings
Whether you're at home, in the car or at work, when a dental emergency strikes, you'll want to be prepared. Until you can get into our Loveland and Terrace Park dental offices, following these basic steps can help relieve the pain, save your tooth and prevent additional damage. Before acting on any dental emergency, you should always contact Distinctive Smiles first to ensure safe and appropriate care.
Temporary Treatment for Common Dental Emergencies
Toothache: Rinse mouth with warm water to clean the affected tooth, and gently floss to remove food or debris that may be trapped between the teeth. If pain persists, visit a dentist for a thorough evaluation as it may indicate a cavity or infection.
Broken tooth: Rinse mouth with warm water; locate the lost filling or tooth pieces; and control swelling or bleeding with an ice pack and gauze. See your dentist as soon as possible.
Knocked out tooth: Gently place the tooth back into the socket if possible. If not, tuck it between your cheek and gum or place it in a small container of milk. Getting to your dentist within one hour of the accident with the tooth is your best bet for successfully reattaching the tooth to the supporting tissues.
Objects caught between teeth: Rinse your mouth with warm water. If that doesn't work, gently try to remove the object with floss. Avoid using sharp instruments that could injure or cut the gums. If the object can't be dislodged, visit Distinctive Smiles for professional assistance.
Temporary dental care is just that- temporary. It's important to seek professional dental assistance as soon as possible following an injury to your teeth or gums.
Fortunately, an unforeseen dental emergency can usually be prevented with early detection and preventative care. Practice good oral hygiene-brushing and flossing daily-and visit our Loveland and Terrace Park offices for regular check ups and cleanings. As a general rule, if your teeth or mouth hurt, visit Distinctive Smiles for a careful evaluation and proper treatment.