My Blog
Posts for tag: bonding
By Drake Tollefson DDS
September 18, 2012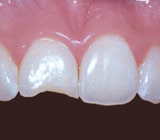 Damaging the crown of a tooth (the part of the tooth that is visible above the gums) is the most common type of dental injury. The tooth may be broken or chipped. It is good to be prepared by knowing how such cases should be treated.
What is the first thing to do if my tooth is chipped or broken?
If fragments broke off the tooth, try to find and save them. They can probably be reattached to the tooth by bonding.
Does a chipped or broken tooth hurt?
The tooth may be sensitive to touch, hot and cold. Depending on the type of injury and how much of the tooth's inner surface is exposed, there may also be pain.
How long can I wait before getting treatment?
Get treatment right away, within 12 hours if possible. Teeth with crown fractures can be treated within 12 hours without affecting long-term outcomes.
What types of treatment may be used?
The treatment recommended depends on the tooth and the type and severity of the injury. Exposure of a tooth's inner pulp can be treated by a pulpotomy (partial pulp removal) technique. Front teeth can be temporarily restored with special cements, or the original tooth fragments may be reattached by bonding. Composite resin bonding may be used to restore the tooth's original appearance and function. Composites can be made in a wide range of tooth colors and can match the original tooth almost exactly.
Is treatment different if the damaged tooth is a primary (baby) tooth?
Chipped or broken primary teeth are generally treated similarly to permanent teeth. The treatment depends on the extent of the injury and damage to the tooth. Treatment of fractured primary teeth also depends on the proximity of the injured tooth to the permanent tooth beneath it, which will ultimately replace it. If a fractured primary tooth cannot be saved, it may be removed.
What if my tooth is loosened but not broken?
If the tooth is loosened but not cracked, broken or chipped, no dental treatment may be required. However, we will collect baseline clinical and x-ray information and keep an eye on the tooth or teeth in the future. We will need to check the tooth during recall visits to see whether the dental pulp is still living or whether it has died as a result of its injury. The latter condition can lead to a variety of problems and will require treatment.
Contact us today to schedule an appointment to discuss your questions about repairing a chipped tooth. You can also learn more by reading the Dear Doctor magazine article "The Field-Side Guide to Dental Injuries."
By Drake Tollefson DDS
April 04, 2011
Nearly every parent and caregiver has experienced that almost instantaneous sick feeling when they see that their child has been injured, especially when it is an injury to the mouth and teeth. For some, it is just a bloody lip; however, if the accident chipped a tooth, then you may have a completely different situation on your hands. If the nerve of the tooth has not been damaged, you needn't worry too much — a composite (plastic) tooth-colored restoration that is actually bonded to the tooth is an ideal material for repairing most broken or chipped teeth. See us as soon as possible to assess the extent of injury, so that proper and appropriate action can be taken.
An additional reason why bonding with composite resin may be the ideal choice for repairing a child's chipped tooth is that it can be custom created in virtually any shade so that it perfectly matches the damaged tooth and the surrounding teeth. It is also far less expensive than a crown, an important factor to consider when repairing a primary (baby) tooth that will eventually fall out to make room for a permanent tooth. If the injury is to a permanent tooth, a composite resin still may be ideal to use as a restoration until your child or teenager has stopped growing or playing contact sports. This is because your teenager may be too young for a more permanent restoration such as a crown or porcelain veneer.
An important, proactive step you can take to be prepared for the next time your child has a dental injury is to download Dear Doctor's Field-side Pocket Guide for Dental Injuries. This handy, quick reference guide is a must have for athletes, parents, caregivers, teachers, coaches or anyone who is often in an environment where a mouth injury is likely to occur. Knowing what to do and how quickly you must respond can make the critical difference between saving and losing a tooth.