My Blog
Posts for tag: tmj
By Drake Tollefson DDS
January 16, 2014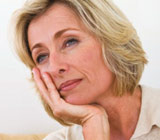 Many people suffer from problems with the temporomandibular joint (TMJ); this can result in chronic pain and severely limit the function of the jaw. Yet exactly what causes the problems, how best to treat them… and even the precise number of people affected (estimates range from 10 million to 36 million) are hotly debated topics.
There are, however, a few common threads that have emerged from a recent survey of people who suffer from temporomandibular joint disorders (TMJD). Some of them are surprising: For example, most sufferers are women of childbearing age. And two-thirds of those surveyed say they experienced three or more associated health problems along with TMJD; these include fibromyalgia, chronic fatigue syndrome, irritable bowel syndrome, rheumatoid arthritis, chronic headaches, depression, and sleep disturbances. The links between these threads aren't yet clear.
The survey also revealed some interesting facts about treating TMJD. One of the most conservative treatments — thermal therapy (hot or cold compresses) — was found by 91% to offer the most effective relief of symptoms. By contrast, the most invasive treatmentâ??surgeryâ??was a mixed bag: A slightly higher percentage reported that surgery actually made the condition worse compared to those who said it made them better.
So what should you do if you think you may have TMJD? For starters, it's certainly a good idea to see a dentist to rule out other conditions with similar symptoms. If you do have TMJD, treatment should always begin with some conservative therapies: moist heat or cold packs, along with over-the-counter anti-inflammatory medications if you can tolerate them. Eating a softer diet, temporarily, may also help. If you're considering more invasive treatments, however, be sure you understand all the pros and cons — and the alternatives — before you act. And be sure to get a second opinion before surgery.
If you would like more information about temporomandibular joint disorders (TMJD), call our office for a consultation. You can learn more in the Dear Doctor magazine articles "Chronic Jaw Pain And Associated Conditions" and "Seeking Relief from TMD."
By Drake Tollefson DDS
December 05, 2012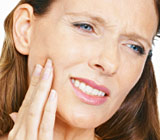 When treating Temporomandibular (jaw joint) Disorder (formerly known as Temporomandibular Joint Disorder, TMJ), we feel we have two equally important challenges facing us. First, we must start your treatment by relieving the symptoms of pain and discomfort. We typically accomplish this with heat, mild pain medications, a diet of soft foods, and some simple jaw exercises. Once we have begun to relieve your pain, our second critical objective is to identify and remedy what is causing the pain. It could be the result of an injury or trauma to the jaws and/or teeth or it could be due to a bite issue or a filling or crown that is too high and thus causing a misaligned bite. There are many other reasons, so it is first necessary to obtain a thorough medical history and conduct a comprehensive evaluation so that we can properly diagnose and treat the TMD condition and what is causing it.
Next to stress resulting in clenching and grinding habits, the four most common causes leading to TMD include:
Underlying dental conditions that are triggering muscle pain
Internal joint derangement (displaced or improperly positioned jaw joint)
Osteoarthritis (degenerative joint disease)
Synovitis — the painful inflammation of a synovial joint-lining membrane that is characterized by swelling, due to effusion (fluid collection)
If you or another family member suffer from chronic jaw pain, please let us know so that we can properly address your concerns and conduct a thorough examination. Or if you are in constant or severe pain, contact us as soon as possible to schedule an appointment. You can learn more about the signs, symptoms, and treatment options for TMD by reading "TMD — Understanding The Great Imposter."
By Drake Tollefson DDS
July 01, 2012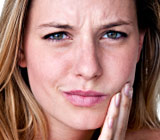 Temporomandibular Disorder (TMD), which was formerly known as Temporomandibular Joint Disorder (TMJ), is a condition that is unusual in that it frequently is quite hard to diagnose, because it often mimics many other conditions. For this reason, many healthcare professionals refer to it as "the great imposter." The condition arises when there are problems inside the temporomandibular joint and the muscles that attach to it causing pain. The pain is most often due to muscle spasm, thereby limiting the ability to open and close the jaw and to function normally. TMD can impact anyone and has a wide range of similar symptoms.
One of the common causes of TMD is stress, and it may manifest itself through clenching or grinding of teeth while awake or asleep. These habits are often completely subconscious until pointed out by a dental professional or sleeping partner. With stress-induced TMD, the pain often comes and goes in cycles. In other words, it may be present when you are stressed, seem to disappear for a while, and then reappear when you are stressed again. Another cause of TMD can be from an injury or trauma, such as a blow to the jaw. However, regardless of the cause of TMD, the pain is real and needs to be treated properly.
If you feel that you might have TMD, please let us know so that we can address your concerns, starting with a full history and conducting a thorough examination. Or if you are in constant or severe pain, contact us immediately to schedule an appointment. You can learn more about the signs, symptoms, and treatment options for TMD by reading "TMD — Understanding The Great Imposter."