My Blog
Posts for tag: bridgework
By Drake Tollefson DDS
October 31, 2012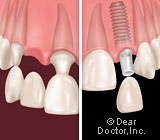 When it comes to replacing missing teeth, we have numerous options. However, two of the most common treatment options include bridgework and dental implants. See how much you really know about dental implants and bridgework by taking our quick and easy true/false self test.
When it comes to costs, dental implants may initially cost more than bridgework but are less expensive than bridgework over a lifetime.
True or False
Both bridgework and dental implants can last a lifetime when properly maintained.
True or False
Prior to placing a three-unit fixed bridge, if the surrounding teeth have crowns, they must be redone so that the bridge fits and wears properly.
True or False
Replacing a single tooth with a three-unit bridge, requires removing the enamel on the adjacent teeth even if these teeth are disease-free.
True or False
In addition to being permanent tooth replacements, another advantage of dental implants is that they don't decay like teeth supporting bridgework.
True or False
It is not uncommon for root canal treatment to be required to save teeth that support bridgework if they have been subjected to severe decay and their nerves become infected.
True or False
Placing a dental implant requires more time when compared to placing a three-unit bridge.
True or False
Both bridgework and dental implants require minor surgery to replace a missing tooth.
True or False
Dental implants are more desirable than bridgework because placing them does not affect the adjacent teeth.
True or False
Studies indicate that bridges are only 67% successful at 15 years whereas dental implants have success rates into the 90s.
True or False
Answers: 1) True. This fact shocks many people. 2) False. This is more commonly true for dental implants. 3) True. 4) True. This is one of the disadvantages of bridgework. 5) True. This is just one of the advantages of a dental implant. 6) True. 7) True. 8) False. Dental implants require surgery to be placed. 9) True. This fact is a significant advantage for dental implants. 10) True. Your results may vary; however, this statistic represents what you might expect.
To learn more, continue reading the Dear Doctor magazine article "Implants vs. Bridgework." Or, you can contact us today to schedule an appointment or to discuss your questions.
By Drake Tollefson DDS
February 27, 2011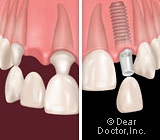 Before determining if a bridge or an implant will work best for you, here is some useful background information. There are two main parts to a tooth; the crown or part that you see above the gum line and the root portion that is below the gum line and encased in bone — the part that is replaced by a dental implant.
A dental implant is inserted into the jawbone during a surgical procedure. The implant is actually a titanium screw-like device that is placed in contact with the bone. During a 3 to 6 month healing period, it subsequently fuses to the bone. A crown made from dental porcelain, gold or a combination of both is then attached to the implant to mimic a healthy, normal tooth.
There are two critical reasons why implants are the preferred method for permanently replacing an adult tooth. The first is that they are less susceptible to gum disease and they are not subject to tooth decay. The second is that because they attach to the jawbone and not to the adjacent teeth. And while an implant may cost a little more initially, when compared to the longevity and replacement cost of bridgework over a lifetime, they may cost less.
By contrast, a fixed bridge is also a non-removable restoration or prosthesis (replacement part) that is held in place by attaching it to your natural adjacent teeth. The treatment gets its name from the French word for bridge, "pont," as the tooth being replaced is called a pontic. Before placing a bridge, the teeth on either side of the missing tooth must be prepared by removing layers of tooth enamel. Three new teeth are then crafted as a single unit from dental porcelain and/or precious metals with crowns on either side of the pontic. The pontic is held in place when the crowns are placed. Bridgework is at risk for gum disease and tooth decay and requires careful maintenance.
As with most dental procedures you have options and choices. Luckily, when it comes to determining whether a bridge or an implant will work best for you, you can rely upon our expertise. However, by having a clear understanding of these two options you are now better prepared for working with us should you require this treatment option. To learn more read the article, "Implants Vs. Bridgework." Or, contact us to discuss your questions or to schedule an appointment.